As a teacher of languages in Spain, one of the main worries is the way our students work the pronunciation and fluency in a different language.
Current schools and linguistic methods don't cope every aspect in terms of speaking, but now, I admit we have found the perfect way to practice and improve my students linguistic skills just by staying in the classroom and talking and collaborating with students and teachers from all around the world. Sincerely, now I feel this is the future of education, this is The Education District.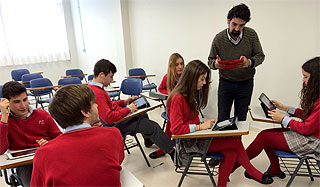 So far, the classical way to enhance the pronunciation was planning anual exchanges with a school from a different country, and though that is an unmissable experience, we knew that two weeks per year was not enough. But since the first time I proposed this new TED experience to my students everything has changed. The real exchanges we do can be complemented with weekly virtual meetings, where our students keep on learning from the other students and viceversa.
From the teachers point of view is very easy to manage and new activities, in relation to the topic we are working in class, can be added constantly.
Moreover, it is priceless the positive effect it has created in my students. Everyday new ideas, approaches and ways to learn are proposed by them since they realize how funny and educative this platform can be.
Honestly, a new and definitive virtual way to improve your students linguistic and social skills.